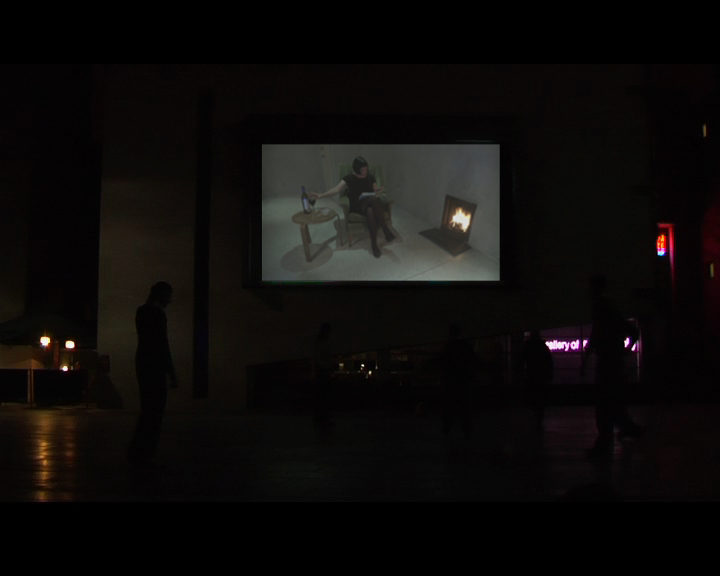 Sleeping Beauty
Jeanette Doyle
Saturday, December 11th, 2010.
6pm until 8.15pm.
Meeting House Square, Temple Bar, Dublin.
[Running time - 2 hours: 15 minutes]
(Curated by Jonathan Carroll).
The film Sleeping Beauty (2009) by Jeanette Doyle documents a performance by Doyle reading a children's story to camera while drinking red wine until the artist herself falls asleep. The piece functions as a painted portrait in that there is very little perceived movement. It was also staged to reference 17th century Dutch painting. There is the constant now of the story endlessly repeated whilst the fire in the background goes down, the bottle empties and the artist falls into a stupor. At one point in the film it seems as if the footage has stalled - however Doyle has simply dozed off with a cigarette in her mouth noticeable only by a plume of smoke. 'Sleeping Beauty' ends as the artist falls into an uninterrupted slumber.
The projection of this work in Temple Bar's Meeting House Square purposely relates to the vibrant mix of both the drinking and artistic cultures in the area. The choice of a film that features the artist reading a children's fairytale coincides with the StorySpark family events currently at The Ark, A Cultural Centre for Children in partnership with Children's Books Ireland and Poetry Ireland while also referencing Dublin's recent designation as UNESCO City of Literature and Ireland's traditional storytellers the Seanachaí.
This is the first showing of this work in Ireland having previously been shown at ISCP New York.
'Sleeping Beauty' is supported by The St Patrick's Festival 2011, Temple Bar Cultural Trust and The Arts Council of Ireland.
More on the artist
Jeanette Doyle's practice is generally concerned with picture making and the problem of producing compelling images in an image-saturated culture. The work also seeks to investigate our misrecognition of ourselves in the lives of others and the inevitable complexity of shared narratives. Looking at the glass of the mirror and the glass of the lens, Doyle frequently references the window of Alberti and the Windows of the Desktop - this reflects a critical interest in the effect that the evolution of lens based technologies has had on image production and particularly on the painted image. Parallel tangents are crucial to the on-going development of the work as is a suspicion of coherence. This suspicion is made manifest by the adoption of numerous tools, strategies and stances and also in the use of synchronous modes of representation which both re-enforce and refute each other.
Upcoming exhibitions include 'Factory Direct' at The Andy Warhol Museum, Pittsburgh (curated by Eric Shiner) where Doyle will be working with Ansaldo, a Pittsburgh based signaling and systems plant in order to produce new work to be shown in the museum and off site. Recent exhibitions include: Invisible Stranger/ unsichtbare Fremde, Tamtam8 Artspace, Berlin (curated by NuNu Hung), ART BEIJING 2010 (curated by the:artist:network, New York and Beijing) and MIGUEL AMADO PRESENTS, ISCP, New York. In the last number of years Doyle exhibited at the '09 798 Beijing Biennale, (curated by the:artist:network, New York and Beijing); Something Out of Nothing, The Invisible Dog, New York, (curated by Manon Slome and Asher Remy-Toledo); 'Embedded Art Berlin', The Berlin Art Academy; 'Preview 09', White Box, New York; 'The Promised Land' (curated by Blanca de la Torre and Nina Colosi), The Project Room for New Media, Chelsea Art Museum, New York; Yoesu Art Festival, South Korea (curated by Raul Zamudio); "Power, Shape", Bridge Art Center, Beijing (curated by zhao shulin and Marc hungerbuhler); 'Critical Mass' HYCAC, Huang Yan Contemporary Art Center, Beijing (curated by the:artist:network, New York and Beijing); 'tough' at mother's tankstation, Dublin; 'Spectacular' Mexico City (curated by Raul Zamudio) and 'Art in the Life World' Dublin (curated by Aisling Prior for Breaking Ground).
In previous years exhibitions include: 'Starline Tours' Location One, New York; 'Nine International Artists' Location One, New York; 'Places', Luxe Gallery, New York; 'Talking with my friends', Y Gallery, New York; "SURGE", 798 Art Festival, Beijing and 'Dream Palace', A-SPACE, 1ARTBASE, Beijing; 'Untitled' (Untitled), PS1 MOMA Contemporary Art Centre, New York and 'EDGE', Kochi Museum of Art, Japan. In 2007 Doyle initiated a collaborative project with curator Sara Reisman, entitled 'When Art (or In What Regard)' which exists as a blog and was available as a printed publication at FLOAT Socrates Sculpture Park, New York.
Doyle's work has also been shown at Dublin City Gallery, The Hugh Lane; The Crawford Municipal Art Gallery, Cork; Ecole Nationale Superieure des Beaux-Arts, Paris; Museum of Modern Art, Croatia; Brisbane Institute of Modern Art; Australian Centre for Contemporary Art; the ICA and Studio Voltaire, London; Temple Bar Gallery, Dublin; Limerick City Gallery of Art; City Arts Centre, Dublin; Fenderesky Gallery, Belfast and the Nordic Institute for Contemporary Art, Helsinki.
For further information please contact: Jonathan Carroll
Email: visualarts@stpatricksfestival.ie